We offer the very best in comprehensive eye care, emphasizing quality and precision with tailored treatment plans for each individual.
State-of-the-Art Equipment
Sawyer Eye Center is committed to offering the latest surgical and pre-op testing equipment available. From LASIK eye surgery to cataract surgery, to the treatment of corneal diseases, Sawyer Eye Center offers the most high-tech equipment available. Our doctors are always up-to-date on the newest treatments and technologies. If you are looking for the leading experts in eye care, LASIK, and cataract surgery in the Weatherford/Granbury area, then call us today!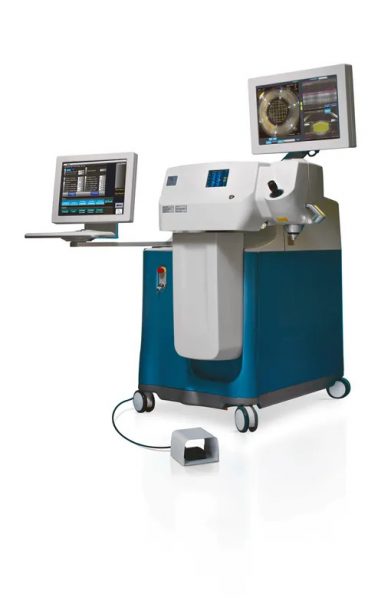 Simple & Life Enhancing Procedures
Laser-Assisted Custom Cataract Surgery
We offer state-of-the-art surgical technology to remove cataracts and simultaneously correct astigmatism, distance vision and near vision.
Glaucoma is one of the most serious yet most treatable eye conditions. We offer traditional eye drop treatments as well as Selective Laser Trabeculoplasty (SLT) or surgery for patients who prefer to avoid drops.
Macular degeneration is a leading cause of vision loss. In many cases, the process can be slowed down or even reversed with timely intervention.
Diabetic retinopathy is a common eye disease best managed with early detection. We recommend yearly eye exams for all our diabetic patients.
Visual floaters can cause symptoms ranging from a minor nuisance to a debilitating problem. Sawyer Eye Center leads the way as one of the fir st clinics in the nation to offer low risk, in-office, laser floater treatment.
We offer the latest advancements in cornea disease treatment, including both partial and full corneal transplants.
Dry eyes are an extremely common problem for many people. We offer a multitude of treatments and customize a treatment plan for your eyes and lifestyle.
Lasik and Advanced Vision Corrective Procedures
We are excited to offer blade-free, all-laser LASIK and other state-of-the-art refractive surgeries.

Give us a call and we can give you the personal attention you need to answer your questions.

Once you've done your research, schedule an appointment and we can get started.
Your appointment is scheduled. Our online forms are available for your convenience.
All the services you need, all in one place.